Healing back pain with yoga

resource:

The Times of India 13.6.2012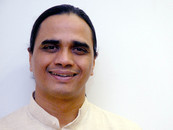 Yoga guru Surakshit Goswami tells backache patients how to do recommended yoga asanas in a certain way and why they are beneficial
Stretchingis an excellent treatment for common back pain; it increases circulation to the painful area as yoga stretches and relaxes muscles and ligaments. Yoga is excellent for strengthening specific muscles that do not receive much exercise during your normal, day-to-day routine.Yoga teaches you the proper way to move, stretch and breathe. Posture is very important and is stressed in yoga instruction. With yoga, there is mental focus that infuses you with calm and a feeling of well-being. The body becomes more flexible as a result of the asanas.
Preparing for yoga asanas
Yoga asanas are usually done on the ground, but for people with back pain, it is better to do them on
the bed. Ensure the mattress is uniform and is not uneven. It should not be too soft. Do the asanas
when you wake up on an empty stomach or in the evening, at least four hours after lunch.
Try and do the exercises facing the east or north direction. When you do this, the positive benefits of
cosmic energy impact you as well.
While performing yoga
Be calm and happy. Don't perform yoga in haste or when you are angry or irritable. While doing exercises, your face or eyes should not feel any strain. Keep your age, body and mental state, and suppleness of the back in mind while doing the yogic exercises.
Don't be in hurry to perform the asanas and do not force yourself into doing exercises. Do not give your waist any jerk while doing yoga. While exercising, keep your mind focused on your back and repeat to yourself that the posture increases the strength and suppleness of the back muscle and the pain is subsiding and the problem is cured.
After performing yoga
Once you have done the asanas and the stretching, wait 30 minutes before taking a bath or eating.
Keep a fixed hour and place for your exercise. Even if you are out of town, try and keep your schedule.
If required, repeat the exercise regime twice or even thrice a day.
After performing your exercises, don't talk loudly or be angry. After performing the exercises, lie down for some time on your back and fold your knees.